Letter to Clark Ashton Smith
From H. P. Lovecraft and Donald Wandrei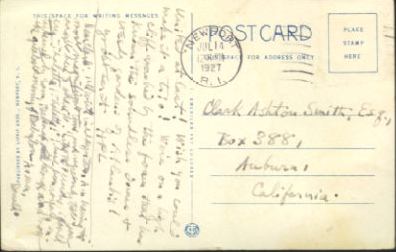 Postcard reads:
Clark Ashton Smith, Esq., Box 388, Auburn, California -
addressed in Lovecraft's hand.
Postmarked:
Newport, R.I., Jul, 14 12:30 p.m. 1927.
The Lovecraft notation reads:
United at last! Wish you could make it a trio! We're on a high cliff washed by the foam that has known the soundless domes & weedy gardens of Atlantis! Yr. Obt Servant, HPL
The Donald Wandrei notation reads:
Dear Clark: I'll write in a day or two. Am having the most magnificent time, and regret only that you aren't here to share it. Like the birds, I could cry" Thalatta! Thalatta!" I have been royally entertained by Son Belknap, George, and now the greatest enemy of Babylon. As ever, Donald.