The Eldritch Dark
The Sanctum of Clark Ashton Smith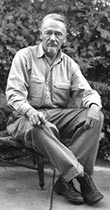 Clark Ashton Smith (1893-1961), perhaps best known today for his association with H.P Lovecraft and the Cthulhu Mythos, is in his own right a unique master of fantasy, horror and science-fiction. Highly imaginative, his genre-spanning visions of worlds beyond, combined with his profound understanding of the English language, have inspired an ever -increasing legion of fans and admirers.
For most of his life, he lived in physical and intellectual isolation in Auburn, California (USA). Predominantly self-educated with no formal education after grammar school, Smith wore out his local library and delved so deeply into the dictionary that his richly embellished, yet precise, prose leaves one with the sense that they are in the company of a true master of language.
Though Smith primarily considered himself a poet, having turned to prose for the meager financial sum it rewarded, his prose might best be appreciated as a "fleshed" out poetry. In this light, plot and characters are subservient to the milieu of work: a setting of cold quiet reality, which, mixed with the erotic and the exotic, places his work within its own unique, phantasmagoric genre. While he also experimented in painting, sculpture, and translation, it is in his written work that his legacy persists.
During his lifetime, Smith's work appeared commonly in the pulps alongside other masters such H.P. Lovecraft, Robert E. Howard, August Derleth, and E. Hoffmann Price and like many great artists, recognition and appreciation have come posthumously. In recent decades though, a resurgence of interest in his works has lead to numerous reprintings as well as scholarly critiques.
The Eldritch Dark is a site to facilitate both scholars and fans in their appreciation and study of Clark Ashton Smith and his works.
Hippocampus Press
Clark Ashton Smith, H. P. Lovecraft, Ramsey Campbell, M. R. James, M. P. Shiel, Lord Dunsany, Algernon Blackwood, and a whole lot more.
Hippocampus Press
Re: Weird Fiction, Non-Fiction & Poetry for Sale
3 Mar, 2014 8:57PM by Tsathoggua
"Ejlain Wrote:
-------------------------------------------------------
> Hi, how much for the two REH Selected Letters
> volumes?
>
> Thanks
> Ed


Hi Ed,

The REH letters chapbooks are $75.00 (Australian Dollars) + $15 postage and handling. I only accept Paypal for payment.

Here's a link to the photo of both volumes: link

If you're keen, please email me - perryfalcon75 gmail com


I… "
Re: Weird Fiction, Non-Fiction & Poetry for Sale
27 Feb, 2014 8:04PM by Ejlain
"Hi, how much for the two REH Selected Letters volumes?

Thanks
Ed… "
Re: Less Familiar Weird Literature
25 Feb, 2014 1:12PM by Minicthulhu
"To finish reading The Night Land was an ordeal for me; I did not mind the pseudo-archaic language but the constant repetition (chiefly on their way back to The Great Pyramid) was unbelievably irritating and tantalizing. But the first part of the book, with the hero heading for The Lesser Redoubt, makes up for all… "
Re: Less Familiar Weird Literature
22 Feb, 2014 10:21PM by Ken K.
"I have finally read The Dream of X. I'm sorry to say that it doesn't work for me. As difficult as it can be, I recommend reading The Night Land. I realize that X was only written to secure copyright, but cutting out all the lengthy quest/trek to and from the lesser… "
Weird Fiction, Non-Fiction & Poetry for Sale
19 Feb, 2014 12:36AM by Tsathoggua
"Hi All,

I'm in the process of culling my collection. Below is a list of titles for sale. Please buy something to help me stay afloat. More to come. PM me for price and other details.

Thanks!

Escape on Venus by Edgar Rice Burroughs, Canaveral Press, 1973.

The War Chief by Edgar Rice Burroughs, Gregg Press, 1978.

The Sowers of… "