The Eldritch Dark
The Sanctum of Clark Ashton Smith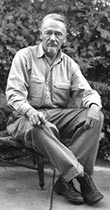 Clark Ashton Smith (1893-1961), perhaps best known today for his association with H.P Lovecraft and the Cthulhu Mythos, is in his own right a unique master of fantasy, horror and science-fiction. Highly imaginative, his genre-spanning visions of worlds beyond, combined with his profound understanding of the English language, have inspired an ever -increasing legion of fans and admirers.
For most of his life, he lived in physical and intellectual isolation in Auburn, California (USA). Predominantly self-educated with no formal education after grammar school, Smith wore out his local library and delved so deeply into the dictionary that his richly embellished, yet precise, prose leaves one with the sense that they are in the company of a true master of language.
Though Smith primarily considered himself a poet, having turned to prose for the meager financial sum it rewarded, his prose might best be appreciated as a "fleshed" out poetry. In this light, plot and characters are subservient to the milieu of work: a setting of cold quiet reality, which, mixed with the erotic and the exotic, places his work within its own unique, phantasmagoric genre. While he also experimented in painting, sculpture, and translation, it is in his written work that his legacy persists.
During his lifetime, Smith's work appeared commonly in the pulps alongside other masters such H.P. Lovecraft, Robert E. Howard, August Derleth, and E. Hoffmann Price and like many great artists, recognition and appreciation have come posthumously. In recent decades though, a resurgence of interest in his works has lead to numerous reprintings as well as scholarly critiques.
The Eldritch Dark is a site to facilitate both scholars and fans in their appreciation and study of Clark Ashton Smith and his works.
Hippocampus Press
Clark Ashton Smith, H. P. Lovecraft, Ramsey Campbell, M. R. James, M. P. Shiel, Lord Dunsany, Algernon Blackwood, and a whole lot more.
Hippocampus Press
Re: forthcoming CAS paperbacks?
18 Jan, 2015 3:12PM by BlueLobster1979
"I'd love to see reprints of these as well. I have the Audible and eBook versions of them, but would love to have the a collection of the physical printed books themselves. However, some of the books in this series are going for $400 to $500 each in the secondary market and that's just well… "
17 Jan, 2015 8:18AM by Geoffrey
"I am very thankful for The Collected Fantasies of Clark Ashton Smith published by Night Shade. It has been more than 4 years since they completed the set. Are there any plans to release these in paperback?

(I am aware of the CAS paperback published by Penguin.)… "
Limited Letterpress Editions Clark Ashton Smith & Lord Dunsany
17 Jan, 2015 5:24AM by pegana
"The Age of Malygris Poseidonis Cycle I limited to 55 copies nearly sold out. Cycle II the Age of Ending will be released later this year. The Lost Tales series by Lord Dunsany and Winter Tales the newest releases for Pegana Press Books.

For fine letterpress editions of the fantastic and unusual we invite you… "
Re: Audi recording of original WT author reading her great work: C. L. Moore LP.
9 Jan, 2015 10:46AM by garymorris
"Jeff Gilleland Wrote:
-------------------------------------------------------
> A while back I was lucky enough to find this rare
> specimen of vinyl. It is C. L. Moore ready here
> first great work from Weird Tales,
> "Shambaleau". This is the only quality
> recording I have ever heard of any of the original
> WT authors reading their own works. I… "
7 Jan, 2015 2:33AM by Ancient History
"Found one I've been looking for. Through A Glass Darkly by Tom Sutton is largely an unofficial adaptation of Smith's "Ubbo-Sathla," and originally appeared in Charlton's Ghostly Tales 113 (1975), and has been just recently been reprinted in the hardback collection Tom Sutton's Creepy Things (2014).

Sutton is also known for doing various comic horror stories… "