The Eldritch Dark
The Sanctum of Clark Ashton Smith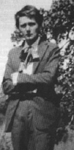 Clark Ashton Smith (1893-1961), perhaps best known today for his association with H.P Lovecraft and the Cthulhu Mythos, is in his own right a unique master of fantasy, horror and science-fiction. Highly imaginative, his genre-spanning visions of worlds beyond, combined with his profound understanding of the English language, have inspired an ever -increasing legion of fans and admirers.
For most of his life, he lived in physical and intellectual isolation in Auburn, California (USA). Predominantly self-educated with no formal education after grammar school, Smith wore out his local library and delved so deeply into the dictionary that his richly embellished, yet precise, prose leaves one with the sense that they are in the company of a true master of language.
Though Smith primarily considered himself a poet, having turned to prose for the meager financial sum it rewarded, his prose might best be appreciated as a "fleshed" out poetry. In this light, plot and characters are subservient to the milieu of work: a setting of cold quiet reality, which, mixed with the erotic and the exotic, places his work within its own unique, phantasmagoric genre. While he also experimented in painting, sculpture, and translation, it is in his written work that his legacy persists.
During his lifetime, Smith's work appeared commonly in the pulps alongside other masters such H.P. Lovecraft, Robert E. Howard, August Derleth, and E. Hoffmann Price and like many great artists, recognition and appreciation have come posthumously. In recent decades though, a resurgence of interest in his works has lead to numerous reprintings as well as scholarly critiques.
The Eldritch Dark is a site to facilitate both scholars and fans in their appreciation and study of Clark Ashton Smith and his works.
Hippocampus Press
Clark Ashton Smith, H. P. Lovecraft, Ramsey Campbell, M. R. James, M. P. Shiel, Lord Dunsany, Algernon Blackwood, and a whole lot more.
Hippocampus Press
Re: A Look Behind the Derleth Mythos
24 Feb, 2015 2:01AM by robinpcharlton
"Thanks for sharing such an awesome review of book. I will definitely purchase this book, I checked with the same in some near by book stores but it is not available. Please let me know, where can I get this book. If you need any writing help check cheap essay writing service, you can get… "
21 Feb, 2015 9:25AM by wilum pugmire
"I am just beginning volume three of ye Variorum Lovecraft, whut begins with AT THE MOUNTAINS OF MADNESS. I have read this work so many times, but each time I return to it I become instantly & absolutely captivated. 'm doing a very careful, slow reading of ye text, and reading aloud, so… "
Seeking Color and/or Hi Res Images of CAS art
17 Feb, 2015 5:29PM by vonrex7
"Looking for a few good quality images of CAS art such as The Basilisk, Racornee, The Martian etc for use in a book- just a chapter on Smith but I'd like to dress it up with some nice examples of his art. I do have some, Jerad at Centipede press has helped me and Scott… "
Re: does site contain complete short stories of CAS?
10 Feb, 2015 10:56AM by shivapashupati
"There is no question that the Hippocampus Press edition of CAS complete poetry dwarfs all previous editions, (including Arkham's hefty "Selected Poems"). The "Fugitive Poems" are there, too. They also include many translations by CAS from the Spanish and the French which were previously unavailable.

As regards the complete short stories, you will have to… "
Re: does site contain complete short stories of CAS?
9 Feb, 2015 3:19PM by Martinus
"rivermage Wrote:
-------------------------------------------------------
> That Hippocampus book looks great. It would be
> great to get a complete short stories collection
> too. In my original post, I was mostly wondering
> what percentage of CAS's short stories are on this
> eldritchdark site we're speaking on right now.

Most of them, but not "Red World of Polaris", for example.… "