The Last King of Mars [A Poetic Adventure]
By Dennis L. Siluk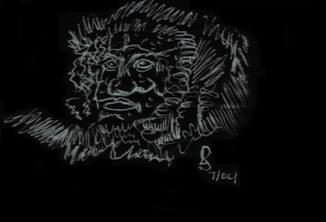 [As Told by the Last] King: it was in the year 23,700 BC that one of the two moons of earth was hit by a meteor that of which, a great part of the moon broke off and hit earth's surface with a devastating impact. Thus the solar system absorbed a cataclysm in unimaginable proportions, from Jupiter to Mars; knocking Earth out of its 100,000-year Ice Age. This destroyed three civilizations, two on Earth, and ours on Mars. That is when I left my home, on the giant rim of Olympus Mons, fifteen-miles high, over a thousand miles wide. Atlantis was originally on Mars you know; replanted on earth, from our residue and remnants. It happened like this…
[Advance] …as the Earth absorbed its momentary catastrophe, we absorbed our doom: the echo of the earth shocked the solar system and set the Martian crust in motion, thus rocking Mars off its axis, snuffing out the planet's magnetic field, slowing down its spin—[this is where the poem begins]:
1. The Face of Mars
The Face of Mars
Now, sculptured
By haunting winds—
Ancient voices
And forgotten dreams…
Once belonged to the Last King…!

'Ah! Yes, yes, like a burning lantern
In a dark sea, it belonged to me…'
2. Earth and Mars
'I have learned
Life is brief on earth;
For we've been here
Since its inhabitant birth…
Yet, I was the last to descend
Let me explain:
One day on Mars
The oceans disappeared;
Next, was the atmosphere;
Then came the rays of the sun,
Water was no longer plentiful
Only in the subsoil
Life was almost gone….'
3. Olympus Mons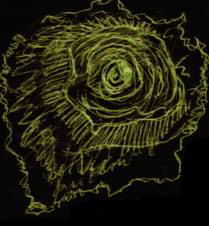 Olympus Mons [volcano]
'I lived on the rim of Olympus Mons
Where I could see miles below
See the valleys carved
Carved in deep,
By ancient water flows.
And to the east
Was the chaotic terrain—!
Beautiful, but not livable;

And our giant volcanoes
With their immense lava
Cones—
Was victorious in the universe…

And our dusty monstrous
Dunes—and our once beautiful city,
Now just mounds

It was all, all so majestic back then;
And that is how it was,
When I was the Last King….'